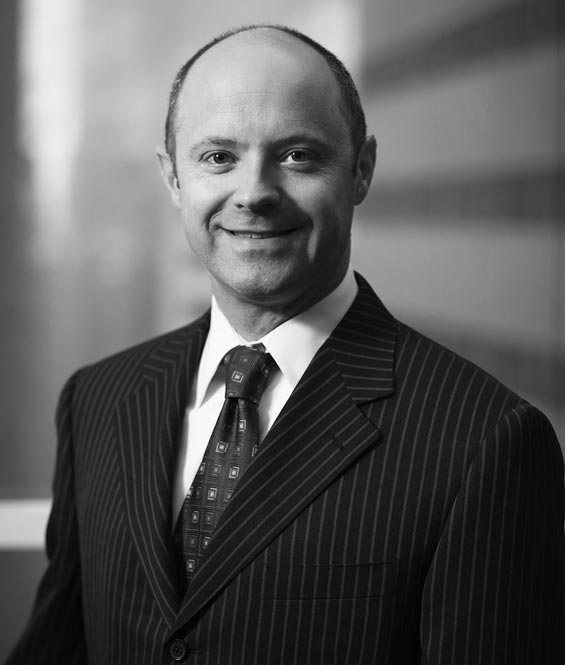 Richard B. Megley
312-982-0063 (direct dial)

Professional Profile
Rich has extensive experience in trial and appellate cases, having successfully tried patent cases throughout the country and successfully argued intellectual property matters before appellate courts such as the U.S. Court of Appeals for the Federal Circuit.
Rich has won a number of patent infringement jury trials, including several representing plaintiff patent owners whose patents were found to be willfully infringed. Rich has examined and cross-examined key technical and expert witnesses at multiple trials. He is a member of the trial bar for the Northern District of Illinois.
Recently, Rich successfully tried a patent infringement case involving a mechanical device in which he represented the patent owner. Rich's cross-examination of one of the key witnesses for the accused infringer served as the basis for the patent owner's damages model. The jury found in favor of the patent owner, including that the infringement was willful.
Rich also won a jury trial in a patent infringement case involving a medical implant device. He represented the patent owner whose patent covered one of its key products that helped put the company on the map. The jury found in favor of the patentee on all fronts: it rejected the defendant's invalidity challenges, found willful infringement, and awarded lost profits on a majority of sales. At trial, Rich cross-examined key technical experts, and presented direct and rebuttal evidence from several witnesses.
Rich has litigated patent and trade secret cases that resulted in large payments to the companies and individuals he represented in the following areas: dental implants; plasma sterilization; computerized wheel balances and aligners; polyurethane rollers used in laser printers; smartphone technology; pulse oximetry; industrial tools; high speed packaging machinery; orthopedic implants; smart remote apps; and computerized industrial automation control. Rich has also successfully argued numerous claim construction (Markman) hearings, summary judgment motions, Daubert motions, motions-in-limine and other pre-trial motions.
Rich has also successfully run licensing campaigns that have resulted in licensing revenues exceeding seventy-five million dollars in total in fields such as smartphone technology, industrial automation, electronic circuitry and medical applications. In those campaigns, Rich not only oversaw the entire litigation aspects of the enforcement campaign, but personally negotiated dozens of license agreements totaling tens of millions of dollars.
Rich also has litigated a number of trademark cases both in the United States Patent and Trademark Office (PTO) and federal courts, including a trademark opposition before the PTO's Trademark Trial and Appeal Board, which resulted in the trademark applicant being awarded a trademark on a color. Rich also successfully argued a trademark appeal before the Federal Circuit which resulted in the confirmation of the color trademark.
Rich is a registered patent attorney. Prior to receiving his law degree, he worked as an engineer in the electrical control and electronics industry, designing electrical control systems used in industrial manufacturing facilities.
Representative Cases

Represented leading medical device supplier in a patent infringement lawsuit relating to a medical implant. Cross-examined the defendant's key technical witness as well as presented direct testimony from several witnesses including client's technical expert. After a week-long trial, the jury returned a verdict in favor of Rich's client, finding the patent willfully infringed, not invalid and awarding a double-digit royalty rate. Prior to trial, Rich defended the inventor and company founder during depositions, successfully opposed summary judgment, prepared and argued all pre-trial motions, prepared and argued post-trial motions, including successfully arguing a motion for permanent injunction which caused the infringing product to be permanently removed from the market.
Represented a diverse technology company in enforcing its portfolio of patents relating to wireless communication against the smartphone industry that resulted in substantial licensing fees. Personally negotiated several license agreements, totaling 7-figure payments to the client.
Represented a patent owner in a patent infringement proceeding relating to plasma sterilization technology. Obtained a favorable claim construction and successfully defeated multiple summary judgment motions filed by the defendant on infringement, validity and laches. Obtained a favorable settlement after summary judgment motions were defeated and just prior to the commencement of trial.
Represented leading supplier of ring metals used in ring binders. Case proceeded to trial and Rich's cross-examination of a key witness served as the basis for the client's damages model. After a week-long trial, the jury returned a verdict in favor of supplier, finding the patent willfully infringed, not invalid and awarding damages.
Represented pioneering inventor in a series of a patent infringement lawsuits relating to a procedure and apparatus for completing minimally invasive knee replacement surgery. Conducted key depositions of the defendant's technical Rule 30(b)(6) witness that helped lead to a favorable settlement for the client.
Represented a pioneering inventor that invented and owned a diverse patent portfolio containing key patents in the areas of smartphone technology, biometrics, streaming of content, video displays, video conferencing, GPS technology, barcoding, anti-spam technology, disk compression and three-dimensional imaging. Successfully negotiated over 30 license agreements resulting in substantial licensing fees in favor of the client.
Represented a printer supplier and patent owner in a patent infringement lawsuit involving printer technology. Obtained favorable claim construction rulings and successfully defeated summary judgment motions. Conducted the negotiations that resulted in a favorable license agreement to the client that allowed them to continue operations.
Represented leading industrial fastener supplier in both a TTAB proceeding and district court litigation through which supplier was able to obtain a key trademark registration for the color blue that was used to identify its high-technology fasteners. Conducted a TTAB proceeding, including deposing over 25 witnesses to establish secondary meaning and prepared the briefs that persuaded the TTAB to grant the registration in favor of the supplier.

Later, successfully defended a challenge to the registration by a different company. The challenge included successfully arguing in defense of the mark before the Federal Circuit that resulted in the opinion, Nasalok Coating Corp. v. Nylok Corp., 522 F.3d 1320 (Fed. Cir. 2008).
Represented leading supplier of networking technology in a breach of contract claim relating to a contract to provide video and networking technology for use in high speed and high stress environments. Conducted key depositions that led to favorable outcome for the supplier.
Represented leading supplier of high-speed food packaging equipment in a patent infringement lawsuit. Conducted key depositions of technical experts, defendant's top engineer and third-party witnesses relating to an invalidity defense. Conducted week-long jury trial that resulted in a judgment of willful infringement and no-invalidity in favor of the supplier. The jury awarded over $26 million in damages.
Represented supplier of products that were used to treat depression in a patent infringement and breach of contract action. After successfully defeating summary judgment motions and other pretrial motions, the case settled favorably for the supplier on the day before trial was set to begin, with Rich serving as lead counsel.
Represented inventor and dental implant pioneer in a patent infringement suit relating to dental implant technology. Obtained favorable claim construction and resolved the matter with favorable settlement to the inventor.
Represented leading wheel aligner and balancer supplier in a patent infringement lawsuit against a key competitor. Each competitor claimed the other infringed certain patents. In total, eighteen (18) patents were asserted between the parties involving hundreds of millions of dollars in sales. Successfully obtained a favorable claim construction on the patents asserted by the client, and against the patents counter-asserted by the defendant. Conducted key depositions of the defendant's interim president and top engineer that resulted in several summary judgment rulings in favor of the client. Obtained favorable settlement on the eve of trial.
Represented technology company in a patent enforcement and licensing campaign against the manufacturing industry. Patented technology related to monitoring and controlling programmable logic controllers that are used in virtually every manufacturing environment in the United States, including, the manufacture of airplanes, automobiles, paint, oil refining, consumer goods, food, electronics, coated paper, and home appliances. Licensing campaign resulted in eight-figure licensing fees to the client. Patent cases involved multi-district patent litigation as well as antitrust claims in district courts in Illinois, Wisconsin and Minnesota. Rich negotiated dozens of license agreements resulting in substantial licensing fees being paid to the client.
Represented technology company that owned a key portfolio of patents relating to power management used in computers, tablets and smartphones. Cases are or were pending against the largest computer and smartphone suppliers in the world. Responsibilities included: (1). successfully arguing key summary judgment motions; (2). successfully arguing claim construction against computer supplier; (3). overall responsibility for discovery, including arguing discovery-related motions before the District of Delaware and Eastern District of Michigan; and (4). taking a lead role in negotiating license agreements with certain of the defendants.
Represented chain of hardware stores in a trademark infringement dispute relating to the mark, "You can do it, we can help." Successfully obtained one of the larger settlements of a trademark case.
Represented leading supplier of remote control products in a multi-patent infringement dispute over apps that transformed smartphones into remote controls that could control anything from TVs to heating and cooling systems. Achieved favorable settlement after favorable claim construction and streamlined litigation process.

Education

University of Wisconsin-Madison
B.S. Industrial Engineering, 1989
DePaul University, College of Law
Juris Doctorate, 1995

Admissions

Federal

U.S. Supreme Court 2007
U.S. Court of Appeals for the Federal Circuit 2000
Northern District of Illinois 1995
Eastern District of Wisconsin 1998
Western District of Wisconsin 2005
Eastern District of Michigan 2013

State

Illinois 1995
North Carolina 2012

U.S. Patent and Trademark Office

Registered Patent Attorney

Recognition

Trial Bar Member, Northern District of Illinois
AV-Peer Review Rating, Martindale Hubbell